تجارة الإنترنت
How to Write a Business Plan – Everything You Need to Know
Starting a new business can be daunting, but writing a business plan will help. With so many aspects to consider, you may wonder how to deliver crucial information correctly.
In this article, we will explain how to write a business plan and the different types of business plans you can adopt.
Download Guide to Writing a Business Plan
What Is a Business Plan and What Is Its Purpose?
A business plan is a document that explains a business' goals and how to achieve them. It contains detailed planning of its operational, financial, and marketing aspects.
That said, it's essential to understand the purpose of writing a good business plan. Here are the reasons why you should have one:
Establish a business focus – the goals and detailed steps in a business plan will help you focus on actions towards business objectives.
Secure funding – potential investors will look into your business plan to see the goals and how you want to realize a profitable business. A feasible company should have inline financial projection and action plans.
Attract executive talent – as your business grows, you may want to recruit experienced executives to direct the company even better. They will likely look into your business plan to determine whether they fit in the company.
While a business plan is commonly helpful for a new company, existing big or small businesses can also benefit from a detailed business plan.
A company can revisit its business plan to see which goals have been met and make new ones for future development or to prepare to take the company in a new direction.
Four Types of Business Plans
Every business plan serves a different purpose. Some business plan types guide the company to attract potential investors, while others focus on short-term gain. Therefore, you should write a business plan that corresponds to your vision.
Here are four types of business plans with a breakdown of each.
Standard Business Plan
A standard business plan covers all business areas. It caters to internal and external parties, like employees, prospective investors, and suppliers. It's the most versatile model.
We will discuss the elements of a standard business plan in-depth later in the article. In general, a typical standard business plan should contain the following:
Executive summary – comprises a high-level outline of a business. You can also refer to the executive summary as the business plan template.
Company description – provides information about the company's purpose and goals. The company description usually takes place after the executive summary.
Market research – analyzes the targeted customer profiles, market potential, and competitors.
Organization and management team – introduces team members and individual competencies and responsibilities in the company.
Products and services – describes products and services offered and how they can compete in the market.
Operations plan – provides information about daily activities and how you will deliver the products and services to potential customers.
Marketing plan – specifies the marketing strategy you will implement to promote products and services to the customers.
Financial plan – shows the financial strategy and assumptions for ideal business performance.
Appendix – contains additional information that supports the business plan's main idea.
Lean Startup Business Plan
The lean business plan utilizes a more straightforward format. It's shorter than a standard business plan as it only highlights the essential strategies, milestones, and numbers.
This type of business plan is helpful to track the growth of a small business. You can monitor your business performance numbers and milestones and compare them with the financial projections.
The lean startup business plan has four essential elements:
The guiding principles – a brief description of the target market, the company's identity, and business goals for tracking purposes.
Execution strategy – lists the operational strategies such as promotion plans, social media campaigns, and production planning.
Performance measurement – defines what metrics will be used and the targeted numbers. This information can be delivered using KPIs and OKRs.
Important numbers – specifies the basic financial plan like sales projections, budget allocations, and expected cash flows.
Various business plan templates are available to help you build one for your business.
An example is Alex Osterwalder's Business Model Canvas. It's a business plan template that maps out your business on a single page with nine components.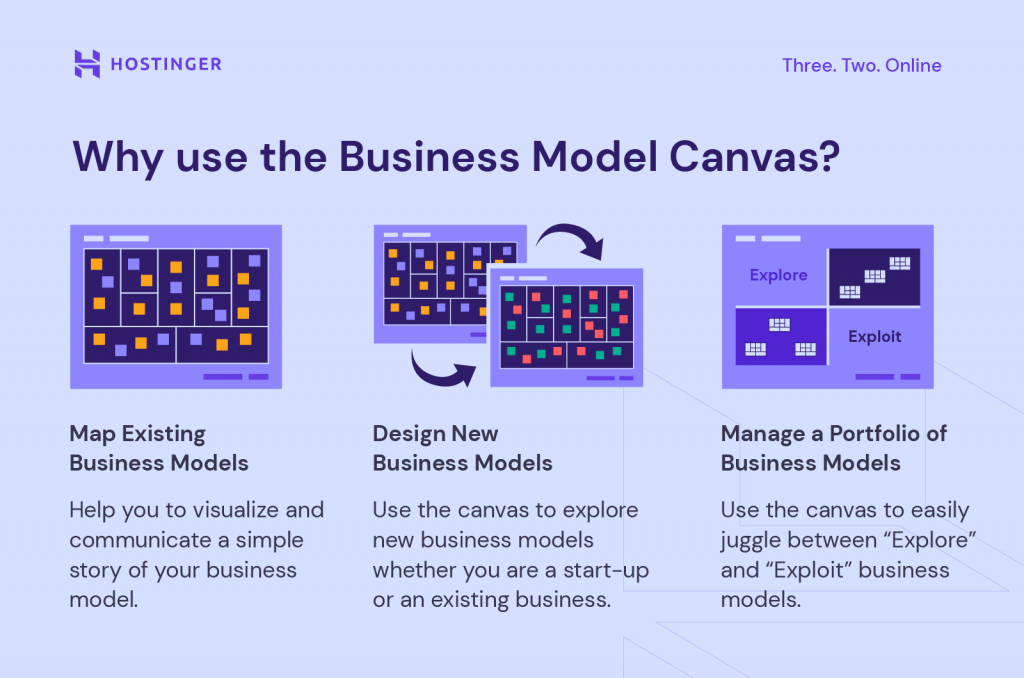 Summary Business Plan
This business plan consists of a single page. It condenses all the essential information conveyed in a standard business plan into an informative summary.
Despite its similarities with the lean business plan, both models differ.
Firstly, a summary business plan uses structured and worded summaries to explain the business. A lean business plan skips that and uses lists, tables, or bullet points.
Secondly, a summary business plan is mainly presented to external parties, like investors, banks, or potential business partners. Meanwhile, lean business plans are primarily used for internal growth tracking.
Complete Business Plan
A comprehensive business plan is generally aimed to acquire funding. Hence, this business plan puts a lot of emphasis on the financial aspect of a business while still retaining other elements like the executive summary, market opportunities, and product overviews.
The financial details that a complete business plan should contain are:
Current financials – describes the company's recent financial performance. It needs to be fully transparent as investors and creditors want a complete picture of the business.
Projected financial statements – estimates future sales, expenses, and cash flows. This element is vital for a new company with no revenue to show yet.
Loan requirements – a detailed description of how much money is needed and future business loan requirements. You need to explain why you need a certain amount of capital based on your financial plan.
Spending plans – an explanation of how you will spend the funds. Investors and lenders will assess whether you have a good spending plan that can yield profitability and a high chance of repayment.
Loan repayment plans – outlines your repayment plans for any ongoing and future loans.
9 Elements of a Standard Business Plan
Every business may take a different approach to the standard business plan's structure, but you must deliver on these points to create a well-written business plan:
1. Executive Summary
It comes first after the title page and must contain all the essential information of the business plan within one or two pages.
It's essential to write a good executive summary as it's often the part that can make or break an opportunity. Investors and executives examine the executive summary to decide whether they should look deeper into the business plan or walk away.
Business owners should feature the following information in an executive summary:
Business Overview
Your business or company overview should first explain your business' concept. Detail the product or service you're going to offer concisely. Make sure to highlight what demand the product or service fulfills – this is usually called the value proposition.
In this company overview, briefly explain how you're targeting a viable market and how the product or service can improve people's quality of life. Mention whether you're manufacturing products or outsourcing them from suppliers.
Market Opportunities and Competition
In this section of the executive summary, summarize the market analysis of your business.
Write about your target market – be specific. Thoroughly explain who its members are and why you've chosen them over other audiences.
For example, if you sell bread, explain which area or economic class you're going to sell it to since it will influence your pricing and promotional costs.
It's also recommended to cover the market volume in-depth to help you forecast the sales volume potential.
There are often different groups of people within the target market to cater to. Identify the market segments and choose which you will focus on. Figure out the problems in the market segment and how your products and services can solve them.
Look for competition in the market. If there are established businesses targeting the same market segment as yours, explain the key differences that make you stand out.
Financial Projections
Financial projections consist of explaining your revenue sources and pricing structure concisely. In addition, show your planned sales, expenses, and revenue figures to overview your projected financial performance.
You can also mention the required capital and how you're going to finance the business. If you're looking for external financing, this is the time for you to explain how much money you need and how you're planning to return it in the future, be it equity in the company or money.
Milestones and Growth Projections
The last element of the executive summary is your future vision once the business grows. If it's for an established business, list the company's milestones.
The projection for future growth includes opening new branches, acquiring a certain amount of new customers, and so on. A small business owner can use this to monitor their business' growth.
2. Company Description
Your company's purpose is outlined in your business plan's vision and mission statement.
The vision statement should contain your ambition for the company – what you want it to be. Meanwhile, the mission statement should reflect what you will do to achieve that ambition.
These statements help align every company member towards the same purpose. The mission statement also plays a vital role in strategic planning as it will shape the business strategy to achieve the company's ambition.
This section may also include your company's history. Make sure to include the details that add important context to your business planning.
The next step is to construct your business goals. These are a set of accomplishments you want to achieve within a certain period. You can set general business goals or split them into departments, such as marketing, finance, or operation goals.
When constructing a business goal, use the SMART framework to help you track your progress:
Specific – narrow down each goal for more focused planning.
Measurable – define the metrics that will determine your progress and achievements.
Attainable – you should be able to reach the goal based on the gathered facts and numbers.
Relevant – every goal should be congruent with the company's vision and mission.
Time-based – provide the timeframe in which you want to achieve the goal.
For example, a startup consulting company may set a goal of acquiring 50 clients in the first quarter of operations. The SMART aspects of that goal can be broken down as follows:
Specific – it's clear that they are targeting 50 clients.
Measurable – they can track the number of clients obtained.
Attainable – 50 new clients in a quarter is not an overambitious target.
Relevant – acquiring new clients is vital for the growth of a consulting company.
Time-based – they should achieve that goal by the end of the first quarter.
3. Market Analysis
Market analysis is a critical part of a business plan template. During it, you will conduct market research. It involves gathering information about your potential customers and their behaviors as well as the competitors to help you lay a foundation for your business strategies.
Defining the Target Market
The first step is to narrow down the market segment you want to target with your business. This will help you better understand the market characteristics so you can develop suitable marketing and sales plans.
Defining the target market will also arm you with the necessary information to build strong business-customer relationships.
To determine your target market, try to find out who your potential customers are. They can be specified using several factors:
Geographic location – decide the area you want to serve based on your business operations' reach.
Age group – this is important if you're selling products targeted at a specific age demographic, such as alcohol, business attire, or toys.
Income level – this factor determines the demographic that will fit into your products' price bracket. Keep in mind that income level can be affected by geographical and demographic characteristics, such as age and gender.
For a business-to-business (B2B) company, you can define your potential customers by the geographic location, industries, company profiles, and relevancy.
Market Volume and Trends
When defining the market size, you need to conduct market research on the potential number of customers. That way, you'll have a better idea of the market cap for your niche.
Additionally, discover the latest trends in that market. For example, you can examine whether the increase or a decrease in demand for your products is related to a booming migration to your operational area.
Competitive Analysis and Environment Analysis
After identifying the target market, it's time to explore your competitors and your position in relation to them by conducting a competitive analysis.
Focus on your direct competitors – other businesses that sell similar products or target the same demographic. Once you've listed all the competitors, conduct a competitive analysis by comparing your business to them and identifying your strengths and weaknesses.
To present this analysis, use the SWOT model – the acronym stands for Strengths, Weaknesses, Opportunities, and Threats.
Strengths and weaknesses represent your business' internal condition relative to other companies. For example, if you have the technology to produce goods more efficiently, this can be seen as a strength.
Conversely, if the competitors have more experienced employees, you can consider your lack of expertise as your weakness. This will become their competitive advantage over your business.
Knowing your and your competitors' competitive advantages will let you better understand how you can position your product or service in relation to your competition.
Based on the example above, highlighting your company's advanced technology in your positioning will spotlight what your competitor lacks. You will also be able to preemptively tackle your competitor's superior human resources by conducting training programs for your employees.
Next, analyze the market environment – see what opportunities you can exploit and if there are any threats you have to mitigate. Opportunities can include favorable government regulations or positive market trends, while threats may take the form of emerging competitors.
These analyses will be useful for creating marketing efforts and strategic company planning in general.
4. Organization and Management Team
In this section of the business plan, you need to introduce the legal structure of the business – the people behind the business idea, each member's role and responsibilities, and how you organize everyone to accomplish your business goals.
Create a brief biography of each team member and highlight their experience. If you've just started a small business, don't worry about gaps in the management team. It's better to have a person who works according to their expertise rather than hiring someone for the sake of it.
This practice can indicate the maturity of your business plan and open more opportunities to find the right person to join your team.
Don't oblige yourself to define the management team using C-level titles like CEO, CMO, and CFO. While it's tempting to have such positions, it may not be the most effective way to run a startup.
Once you've divided the team members' responsibilities, prepare an explanation of your organizational structure if applicable. Although you can put the organizational chart in the appendix, you still need to define the managerial flow of your team members from top to bottom.
You're free to choose a flat or tall structure and how you divide the functions in your company. The critical point is that it should support the operations to achieve the business objectives.
5. Products and Services
This is the section of the business plan where you thoroughly explain what products and services you offer.
Explain how the products and services will fulfill the target market's needs. You can include features and benefits, but don't go too deep into technical specifications – you can put them in the appendix instead. Also, avoid using technical jargon to make the text easier to understand.
Another vital aspect to cover is what makes your goods and services different from the competition. If you create a product with features distinguishable from other companies, make sure to include its breakdown in this section.
Alternatively, you may be selling similar products at a competitive price. Explore how you're able to offer them at a lower price. For example, you may manage to make the production process more efficient or source the raw materials from cheaper suppliers.
6. Operations Plan
This section contains a breakdown of your methods of operating the business, including how you deliver products and services to the customers.
You can cover the equipment you need to run the business, the detailed operational flow, and legal requirements.
Facility Management
First, specify the facilities that you need to run the business. This includes the equipment you already have and anything that you have yet to acquire. Make sure to mention how you're going to obtain everything. For instance, you'd rent the equipment or buy out the assets.
Don't forget to justify why such facilities are essential and why you acquire them a certain way. For example, purchasing expensive equipment may be vital for your production because no rental business leases that machine.
Daily Operations
Cover how you carry out daily activities, like production or service methods, inventory control, supply chain management, and facility maintenance.
If you get products from suppliers, be sure to explain the process of order fulfillment and delivery.
The business plan should contain a detailed production method for a company that does the manufacturing on its own. Make sure to explain how you get the raw materials, process them into goods, and deliver them.
Be sure to note the time it takes between acquiring raw materials and the end of production. Doing so will indicate that your production process is well-planned.
Mentioning the daily facility maintenance tasks is also required. For example, if you have a restaurant business, you need to clean the kitchen and dining areas daily to maintain hygiene and quality standards.
Legal Requirements
If the region you operate in requires a business permit, you should present it here. Define how your operation complies with all the necessary legislation in your industry, such as health or environmental regulations.
7. Sales and Marketing Strategy
In this step, you have to develop a marketing and sales plan to promote your business to the customers.
Positioning
Product positioning is the process of developing a public perception for your product or service. Doing so is especially important if many similar products saturate your target market.
Customers will compare your products to competitors' and look for any unique factors. Your goal is to distinguish yours from the competition by giving an association that will stick to your brand.
Examples of common positioning buzz-words are "affordable", "reliable", "heavy-duty", and "simple." You can pick any trait that matches your product and business objectives.
Pricing
After defining your product position in the market, you have to develop a pricing strategy and model.
There are two fundamental rules you must follow. First, you need to cover the product's cost to the customer. Then, you should match the price with your chosen market.
There are three approaches to determine the ideal price:
Cost-plus pricing – establish the price by determining the initial costs and then marking them up.
Market-based pricing – check the market and see what prices the competition offers. Find out the industry average when it comes to the product's pricing. Depending on your positioning, put your price in the high or low-end of the market.
Value-based pricing – the price is determined by the value you're offering to the potential customers. For example, you may be selling a cleaning product that can save $10 and price it at $8.
Promotion
There are plenty of options to advertise your products and services these days. The mediums range from traditional channels like billboards and print magazines to digital channels like social media platforms.
To determine which marketing channels you should use, look back at your customer profiles. Each demographic has its preferences, so make sure to consider them when picking a platform to advertise your business through.
Next, create a sales promotion plan to convince your customers to buy your products. Although sales promotions are considered a short-term strategy and ineffective when building customer loyalty, they can still boost sales.
These are some of the sales promotion plans you may try:
Trial products – offer a free trial to let customers test your products. This method is prevalent among software companies.
Bundles – sell combined products as a package at a lower price compared to purchasing each separately.
Discounts – give a price reduction for repeat buyers or during a festive season.
Limited-time products – launch products that are only available for a short time. This strategy exploits the sense of urgency and scarcity to attract sales.
Sales Channel
A sales channel is how you will deliver your product or service to the market so customers can make purchases.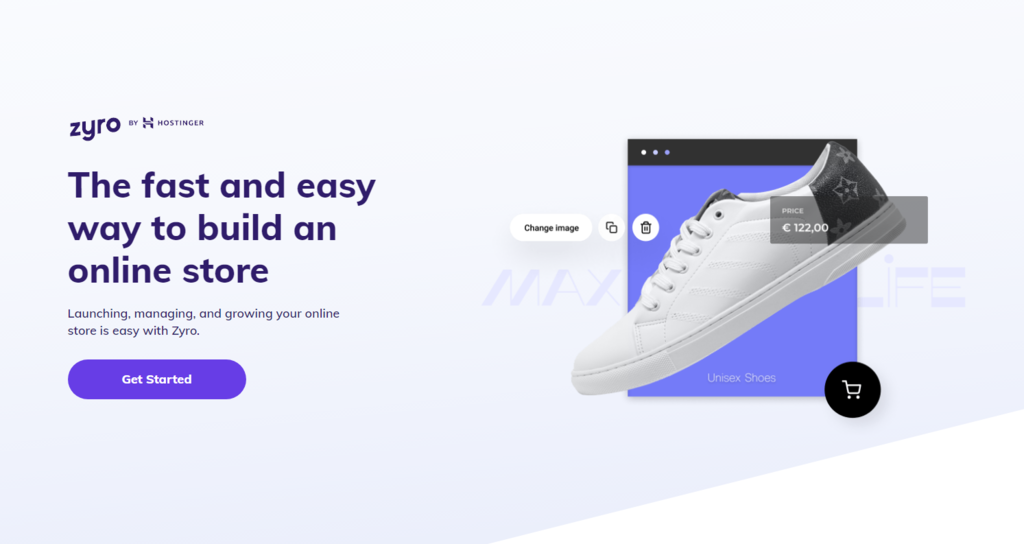 In general, sales channels can be divided into two categories – direct and indirect.
A direct sales channel means your company sells products directly to customers. You can do it through personal selling, branded retail stores, or the company's eCommerce website.
On the other hand, an indirect sales channel is when you use intermediaries like a retailer or online marketplace to sell your products. For B2B businesses, sales representatives often become the intermediary between businesses.
Your ideal sales channel depends on the type of products you sell and your target market. For example, if you sell a commodity product for a broad market, you may want to have multiple sales channels to help you reach more customers.
8. Financial Plan
Making a financial plan is often considered the most daunting part of writing a business plan.
Business financial projections show the feasibility of the company and the areas you can improve. Include the projected profit margins you'll reap to provide clarity to investors on how profitable your business will be.
A financial plan generally consists of the business projection for the first 12 months, followed by annual projections for the next three to five years. If the company is already up and running, this section should include the recent financial statements.
There are several financial statements you should add to your business plan:
Balance sheet – an overview of the business's financial health. The balance sheet names the company's assets, liabilities, and equity.
Sales projection – a general expectation of how many sales you can make. You can also include the Cost of Goods Sold (COGS) to get the idea of how much gross profit you make from each product category.
Income statement – this statement will show whether your business will make a profit or take a loss. The income statement takes the numbers from the sales projection and puts them together with other business expenses, producing the net income.
Cash-flow statement – not to be confused with an income statement, cash-flow statements track the inward and outward flow of your money. The purpose is to show how much cash in hand goes through your business. The cash-flow statement also signifies financial health and helps plan future spending since you can project how much money you will have at that time.
Break-even analysis – for a new business, break-even analysis will show the sales required to become profitable with given variable and fixed costs. It also helps the company to set a sales performance target.
Predicting your business financials in the future requires some assumptions.
List all the deductions you use to know in what circumstances your business can pursue these projections. For example, you may assume that the market trends will remain the same for the next few years.
9. Appendix
This section contains some additional information to clarify or emphasize the previous elements of a business plan.
You may include additional information like:
Organizational charts
Documentation of products or facilities
Information about market research
Additional financial projections
Legal agreements
Practical Tips to Turn the Template Into a Proper Business Plan
Writing a successful business plan can be challenging. Here are some tips on how to write a business plan for both big and small businesses:
Be realistic – provide a logical plan of action to achieve your goals. Don't forget to be honest about your resources and capabilities.
Keep it clear – a good business plan focuses on delivering essential information. Write concisely and avoid filler language as investors don't want to read a lengthy business plan.
Use charts and graphs – present data using charts and graphs to make your business plan more appealing and easier to digest.
Substance over form – don't overthink the formatting. You can play around with the business plan's presentation only if you're sure it already has all the essential information.
Know your audience – you may want to adjust your style and tone depending on your audience and industry. Feel free to get creative with your formatting to engage their attention, but prioritize the content's value.
Conclusion
Having a business plan is crucial when planning to improve an established business or start a new one. It creates a roadmap for your operations and guidelines for the team. It may also help you attract angel investors and venture capitalists.
As there are various business plan types, make sure you pick the one that's most aligned with your vision. As long as you deliver the necessary information and include all the key elements, your business plan should help you achieve your goals.
Now that you've learned how to write a business plan, it's time to start writing one yourself. Good luck – we wish your business success.